Boise (Chapter 10, Pages 58 - 65)
The congregation in Gooding was thriving. The church building had been completed, and the entire community was aware that something was happening there.
The Buck family had survived the storms of adversity and my parents had come through stronger than ever. The Lord had healed my heart and I was able to start first grade right on time. My little sister, Charm, at two was a happy little girl who had developed an amazing aptitude for putting together any kind of puzzle. Daddy had a wonderful time showing of any kind of her ability to his friends. He was firmly convinced that both of his daughters were exceptional.
"Roland! Telephone! It's long distance from Boise!" Mother handed the phone to him, wondering who on earth would be calling.
It was a representative from a little pioneer church in Boise. Reverend Boutwell had gathered together a group of people; God had blessed; and the congregation had built a very small sanctuary in one of the older residential sections of the town. The congregation was much smaller than the one in Gooding.
Reverend Boutwell was moving on to pioneer another work, and the people wanted daddy to come and speak to them with the possibility of his taking the pastorate. As he hung up, he felt a quickening in his heart in response to the invitation. Mother shared his feeling.
Just a few weeks later, my father tearfully preached his farewell sermon in Gooding. He felt strongly that God was moving him to Boise, and that He must obey.
The little church in Boise was called Bethel Assembly of God. They didn't have a parsonage, so daddy purchased a big, sprawling, old house for an unbelievably low price. The people in the congregation banded together and scrubbed and painted to help make this house presentable.
As Mother went through the house, she immediately began thinking, "If Roland will tear out this wall and move the stairway... Oh, and the living room is so big that adding a wall could make another bedroom!" Daddy just smiled as mother enthusiastically told him all her ideas. He knew that she had a special gift of transforming any place, no matter how drab it might look in the beginning, into a comfortable, attractive home. He was proud of this talent in her and was willing to work with her to accomplish their ideas.
One of the first things he did was put himself on a very small salary. Up to that time, the pastor received the entire Sunday offerings. Daddy felt there must be some money from the offerings to put back into the operation and growth of the church. When he went on a salary, the offerings immediately increased, as people realized that much of what they gave would go right back into the church. The second thing he did was buy an old school bus and he began going door to door inviting boys and girls, moms and dads, to fill it up.
The following was excerpted from a letter from one of those Sunday school kids.
"I first met Roland Buck when I was nine years old. My mother, my two older brothers, my younger sister and I lived in one of the two major ghetto areas in Boise. We were one of the poorest families. The house we lived in was truly a "tarpaper" shack. There were curtains rather than doors between the rooms, no screens on the windows, and in the winter we pushed a rug against the outside door in an effort to keep out the cold. The oil stove that stood in the front room was not adequate for heating a house even this small.
"It didn't seem as if many people cared about the poor people in those days of 1951. I don't remember many people coming to our door. Pastor Buck was the exception coming to our door.
"My oldest brother Robert had met Roland somewhere in the streets. I sometimes think that Pastor Buck drove through the poor parts of town, looking for people who needed a friend. I was very young then, and could not fully appreciate the depth of caring that motivated a man like him. He gave Robert a ride home. I wonder now what he thought as he entered and surveyed that hovel that we called home. What I do know is that from that Sunday morning on, he picked our family up for church and brought us back home. It wasn't just Sunday mornings that he took on the responsibility for us, but Sunday evenings, Wednesday evenings, and any time there was a special service in town or out of town.
"At the Christmas program there was always a bag of oranges, nuts, and candy for the kids at the church. I wonder how many of those people ever realized that this was just about all some of those children ever got?
"Life separated us, and I went to live with my father. The years passed. I thank Pastor Buck for many things. I thank God that before he was taken home, Roland Buck knew how very, very much I appreciated his efforts above and beyond what many ministers would have construed as their duty. I thank God that Pastor Buck was a man who was willing to go that extra mile. Also that he was a man who went out eagerly into the highways and byways to bring people in. In short, Pastor Buck lived the message he preached!"
Another charter member, Grace Schofield, writes, "Pastor Buck was more than a pastor. He was our friend and brother. In the twenty-five years we had the privilege of sitting under his ministry, we found him to be consistent in his trust and faith in the Lord. He never went from right to left on anything but stayed in the middle of the road. You knew you could trust him.
"He was a pastor who cared about people. When we first came to Boise, the church was on 21st and Alturas. He would go from door to door inviting people to church. Sunday mornings he went picking up children and even washing faces.
"Pastor took our boys out into the country and taught them about cars and driving them. He also helped with school work. When the boys were older and doing their own thing, he held them up in prayer. One Sunday night they both ame to church. Pastor told us later that he could see no one but our two boys no matter where he looked.
"When someone came with a need, he didn't just pray, but reached into his pocket and handed them a five-dollar bill or more.
"Pastor was human, he made his mistakes, but was always quick to say he was sorry. There were times through the years that I did not totally agree with him, but I always respected him. We could always go to him and talk things out.
"It was beautiful to see the gifts of the Spirit in evidence in his life. It was no surprise to us that the angels were sent to him. The Lord had trusted him with information throughout the years and knew He could trust him to tell only what He wanted told. He never got puffed up over these things. He was in awe at seeing and talking to angels, but he never felt that it was because he was special. He always included the whole congregation as a family in the visitations. We all felt involved.
"Most of all, he taught us to trust the Lord completely in all things."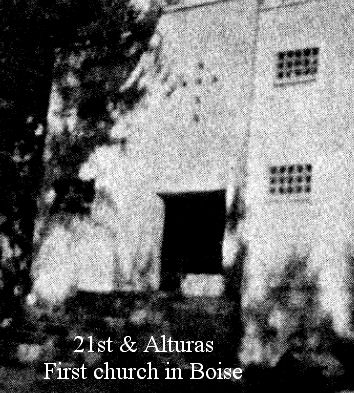 With this kind of caring, it wasn't long until the little church on 21st and Alturas was filled to capacity. The congregation pitched in and expanded it as much as possible, but finally it was time to build.
Daddy and some of his board members flew in a small plane over the city and, from high over the town, they found a spot that looked as if it must be right in the middle of Boise. After they landed, they found to their excitement that the spot they had seen was indeed available.
The project for the new church on Latah Street was huge financially in the eyes of the little congregation but, led by their pastor, they plunged ahead. This new church was truly a step of faith, because their building payment per month was as much as the entire monthly budget of the Alturas church.
Because of the more central location, the name of the church was changed from Bethel Assembly to Central Assembly. A lot of people got a real chuckle out of a picture that was run in the local newspaper. A reporter had taken a picture of the tiny storage shed on the site, with a sign on it almost as big as the shed that said, "Future Home of Central Assembly!"
On February 8, 1951, we all were thrilled by the birth of another boy. He was a big baby, weighing in at over ten pounds and was twenty-four inches long. He was named Ted Alan Buck. Daddy teased me telling me that my new little brother was so big that he would probably walk in when he came home from the hospital. I cried because I was looking forward to having a little baby brother. I was so looking forward to having a little baby brother. I was relieved when my mother came home with a real baby.
Ted was the hungriest baby anybody had ever seen. By the time he was six months old, he weighed thirty pounds. He didn't stay a baby for very long. He seemed special to the whole family, his sisters included possibly because heir first little brother was in heaven. He was loved and was the apple of his daddy's eye. Teddy took my place riding with daddy, an arm on his shoulder and I didn't even mind. As soon as he was old enough, he went everywhere with his daddy.
Dad decided that as long as I had learned to read at four, he would see how Ted could do at two. So Ted, to the amazement and applause of his adoring family, did just that. When he was three, dad took him to get his first library card. The librarian saw him looking at the first and second grade books and said, "Sonny, these are the books you want, the ones with the pictures." Ted very politely told her, "I don't want the books with pictures, I want the books with the words! I can read." The librarian smiled and probably thought, "Sure you can!" She was still unconvinced and picked a book off the shelf and gave it to Ted. He promptly read the first few paragraphs to her. She was thoroughly amazed and let him have his first library card.
Daddy had a passion for cars, especially old ones, and as he and Ted were visiting and riding around, he began to teach Ted the names of all the cars. At the age of two, Ted could name every car on the road of any year, even though he had a hard time pronouncing the names of some of them. Daddy had fun showing off his son to astonished visitors.
Two years after Ted was born, another little sister was added to the family. Daddy again teased me and my sister Charm, by telling us that Marilyn was as red as a pair of bright scarlet curtains that he saw hanging in the house we were staying in while mother was in the hospital. Again, we were relieved when our little baby sister, though slightly redder than most babies, was not the color of those scarlet curtains.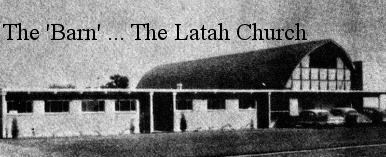 It was an exciting day in 1957 when the congregation of about 200 took possession of our new facility. The auditorium could seat 400 and the unfinished balcony would hold about 200 more.
There weren't any pews that first Sunday, just folding chairs. The congregation had plenty of elbow room, but suddenly the dynamic presence of the Lord filled every nook and cranny of that auditorium. The congregation was not aware of the fact that their pastor, as the church was being build, had walked around the site, and prayed over every inch of space. The building was consecrated to the work of the Lord long before it was ever completed.
Since daddy had not taken any increase in salary through the years in order to make sure the new building was completed, he was faced with the fact that his family had grown, prices had gone up, but he was making the same amount of money, To help make ends meet, he put ads in the paper for remodeling houses and painting, inside and out. He would also buy an old car, fix it up, and sell it for a profit. He was a very busy man. He did pretty well, except when he would come home from a painting job to find a call waiting for him to go to the hospital or to see someone. He would then have to quickly change his work clothes, do his visiting, come back and change again. He felt during those years that he did nothing but change clothes.
He finally decided that it would be less time consuming and also cut out the constant round of changing clothes to go into real estate as a sideline. Once again, his remarkable memory came to his aid. In order to get a license to sell real estate, a person was required to pass a state test. Daddy read through the material, passed the test with one of the highest scores, and in his first month of selling real estate, was named, "Salesman of the Month" with the highest sales in the area.
It didn't take long for him to realize that with his tremendous burden for souls, he had to make a choice between selling and ministering. He and mother talked it over. We were in school. So mother decided to go to work, and so free daddy to concentrate totally on the church.
What a lady my mother is! This story is about my father, but mother makes the story complete. She was behind him all the way, totally supporting him, encouraging him, loving him. She is an outstanding example of what a minister's wife can be. At that time, mother went to work in a hamburger drive-in as a cook, working for some people in the church. When she wasn't working on her job, she was helping daddy with all the clerical work, or helping with the Sunday school. She was also an excellent housekeeper. She had tremendous energy and a real zest for life. In the time it takes most people to make excuses about why they are too busy to do something, she would already have it done. She was always bursting into daddy's study with, "Oh, honey, do I ever have an idea!" He loved this in her, and encouraged her creativity. Things would really start to hum when mother would get an idea!
Daddy, as busy as he was in his pastorate, was not too busy to roll up his sleeves and help around the house. If mother was not yet home from work, he would start dinner. If mother was not yet home from work, he would start dinner. If a room got cluttered or needed vacuuming, he wouldn't step over the mess and wait until his wife got home, he would get out the vacuum and take care of it. What a beautiful example for us, watching our parents in action at home. They were the same at home as they were in public, and in the eyes of their congregation. There was no double standard in their behavior. Both of them cared for their church the same way. If something needed to be done, either one of them would take care of it. This remained true even when the congregation grew to 2,000 people. You could find daddy on Saturday night, with vacuum in hand, cleaning up something that had been missed, rather than getting on the phone and trying to find somebody else to do it.