Queenie (Chapter 16, Pages 109 - 111)
If only Queenie could talk, imagine the things she could tell us! Queenie is a beautiful Great Dane, now eight years old. She was with daddy during most of his meetings with the angels. She has been privileged to have her ears scratched by these heavenly beings.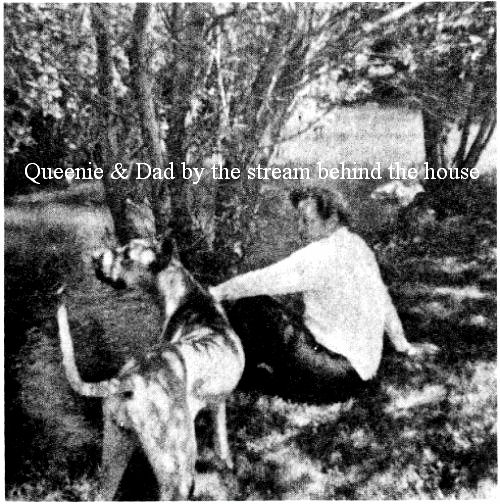 Daddy loved animals, especially dogs. Queenie was sort of a birthday present to my mother. Sort of a birthday present because she came to live in the Buck household on my mothers' birthday, and how could mother not accept her birthday gift? Mom liked little dogs, and probably would have loved a toy poodle, or a little house dog. The family already had a dog named Bronco who was part Dachshund, and part Cocker Spaniel. The part that was Dachshund was the short legs and long, long body. The rest of Bronco was Spaniel. He was a funny looking and an endearing dog. Daddy walked in with Queenie, who at two months, towered over Bronco. Although Queenie was already quite large, she only knew that she was a puppy, and as such, wanted to be loved.
Daddy said, "Charm, here's your birthday present!" Queenie took one look at my mother and fell in love. She tore across the room and leaped into her lap, which wasn't nearly big enough to hold her. Mother gingerly patted Queenie on the head, as she laughed and said, "Honey, this is not my birthday present!" All of us kids were chuckling as we watched Queenie trying to snuggle up on mothers lap, and impossible feat! She jumped down and bounded around the room, making herself at home. Mother did have some other birthday presents, by the way, but Queenie was there to stay!
Queenie grew into a beautiful, sleek dog. She and daddy became constant companions. Whenever you saw daddy out walking, close behind was a beautiful Dane. Queenie made a path from the parsonage, across the fields to the church. Daddy began to walk to church with Queenie, following her path as it zigzagged through the tall grass.
Queenie spent many hours in daddy's office as he prayed with people and counseled with them. When some people would be fearful of the big Dane, we staff members would smile and tell them not to be because, "Queenie is a Christian, and helps pastor pray with people!"
She also adopted me, and if daddy was out of town, Queenie would mournfully come to my office to lay in the sun.
She was very gentle, and loved children. When Maranatha School came into existence through Central Assembly, Queenie was in heaven with all the children to play with. She became the school mascot, and the team name became the "Great Danes."
Queenie even received her own activity card with her picture on it, entitling her to free access into all the school activities.
One of the things that Queenie loved about the school year was the different lunches the kids would bring. They soon learned not to stand with their arms down if they had a sandwich in their hand, because Queenie would think it was for her and would very quietly help herself. Many times you could hear one of the little kids saying with childlike astonishment, "Teacher, Queenie ate my lunch!" Queenie would quietly slink around the side of the school and be gone.
After the book Angels on Assignment was published, Queenie was famous. Everywhere daddy went to speak, people, especially children, would ask, "How's Queenie?"
When my father went to be with the Lord, we all expected Queenie to quit eating and mourn until she died, because she loved her master so much. But perhaps the Father, who hears even the soft sound of a tiny little sparrow falling to the earth, whispered into her ear that it was okay, "her master was with God!" Queenie did not really mourn. Prior to his death, when daddy would be gone, Queenie wouldn't eat well. But this time, she continued to eat, and although it took her a little while to be really frisky, I really believe Queenie knows where her master is.
Next: Music, Music, Music