Afterword - Have You Confirmed Your Reservation?
(Pages 207 - 209)
I have shared thru the pages of this book the true story of a man I knew very well as my father, my pastor, and my boss. I have tried to give you a glimpse of his great sense of humor and his down-to-earth humanity. I have wanted to share with you a man, who although very special, was still just an ordinary man. However, of utmost importance is the way this special, yet ordinary man was unique in the way he walked with God.
Dr. Hurst, president of Northwest College wrote in the Northwesterner, "One of the classic statements of Scripture was said of Enoch, "He walked with God, and was not for God took him." For those who knew the late Reverend Buck the same statement could be said of him. He walked with God ... God took him. Roland was more than a champion of the supernatural, he was a channel. Perhaps no greater tribute can be paid to Roland Buck than this. He was an ordinary man who believed God and walked with God. Thru his life and ministry God has brought to Himself multitudes of men He has purposed to save."
The message that was given to my father by angelic messenger continues to reach out and touch lives today. Perhaps this message of God's love has touched you and made you aware of what God is really like!
One of dad's favorite sermonettes was that God planned for everyone to spend eternity with Him. He is not willing that any should perish. When a person is born, his name is written in God's Big Book, and is not removed until he or she dies without accepting what Christ has done.
Daddy used to say that Jesus reserved a place for everyone in heaven by His sacrifice at Calvary, but it's up to each individual to confirm, or pick up that reservation that Christ made for them.
If you haven't already "confirmed your reservation," why not confirm it right now? Just pray this simple prayer.
"Father God, I accept what Jesus has done for me by His death on the Cross. I invite you into my life right now. Forgive all my sins. Thank you Jesus."
Now, no matter where you are coming from, or how bad you feel you have been, at this moment in God's eyes, you are as clean and pure as a new born baby. You are innocent, and made as though you had never ever sinned. Praise the Lord!
Daddy always told people after they had "confirmed their reservations" - "Just like pounding a nail in a board, you clinch it by bending the nail over on the other side!" He had people clinch what had happened to them by calling someone and letting them know what Jesus had done for them. If you have accepted Jesus in your life for the first time, or renewed your dedication to Him, why not clinch it, by calling someone and letting them rejoice with you in what Jesus has done.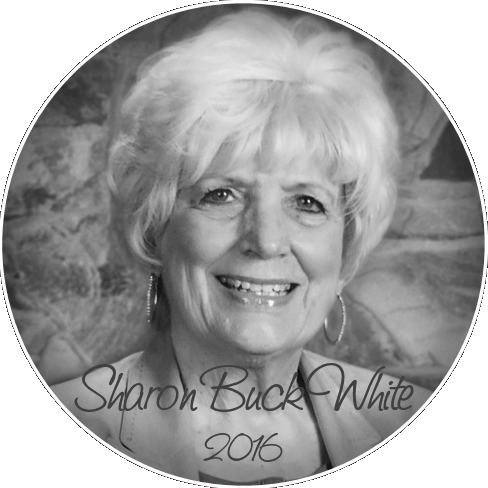 Now, why not do one more thing. I would love to hear from you how the message of God's love and care touched your life. Why not drop a note in the mail to me.
Now, begin reading your Bible and be sure to find one that's easy for you to understand. The main purpose of the Bible is to show us what God is like. It will really help you get to know Him.
And then find a good church where the Bible is taught. Worship and fellowship with other Christians will help you tremendously in your walk with Christ.
Thank you for letting this beautiful message of God's love and care touch your life!
- Sharon White (1982)
* 8650 West Fairview Avenue, Boise, ID 83704
* This web site is NOT affiliated with Sharon Buck White and the CityHope Church, formerly Central Assembly of God, Boise, Idaho.
END of BOOK but NOT end of story. Jesus has Risen and is Coming Back Soon! He Cares and Calls for YOU!