Charm (Chapter 8, Pages 46 - 49)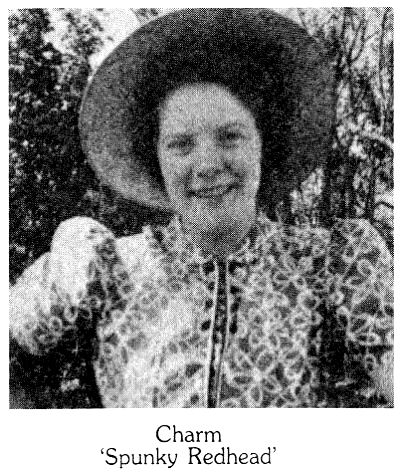 One day there was a knock on Margaret's door. She opened it to find two smiling girls who introduced themselves as the "Sunday school girls." They were going door to door inviting children and their parents to the little neighborhood church they were starting. One of the girls had red-gold hair, and unusual turquoise eyes. She simply bounced with life and sparkle. She had a very unique name, Charmian, "Charm, for short," she said. The other girl whose name was Doris Johnson, was also very pleasant.
Margaret and Troy were impressed with the girls, and decided to visit their church. They loved it. The presence of the Lord was so real.
The more Margaret got to know Charm, the more she thought her name suited her, and the more she wanted to introduce her to her brother Roland.
Thirty-eight years later, Charmian shares a little of her life with Roland.
"One day coming back from the airport, having ministered in another city, I felt the loneliness of my husband being gone. Tears began to fill my eyes and there was an ache in my heart. I was suddenly brought to the realization that I cannot mourn, but I must thank the Lord for allowing me to share thirty-seven good years with a very special man.
"Looking back thru those years of marriage, they have telescoped into a moment of time, too short at the very best.
"My girl friend Doris Johnson and I were pastoring a church in the Fairmont community, five miles south of Everett, Washington.
"One lady evangelist was very concerned about us being tucked away in a small community and encouraged us to make 'contacts.' Surely no young men would find us in this obscure area of ministry! How beautiful it is when we give our lives to the Lord. He takes care of us in every way without manipulation on our part!
"My sister-in-law, Margaret Ward, saw a potential of mutual friendship with her brother and I, so she invited Doris and me and her brother to dinner. I was very impressed with this handsome, broad-shouldered, muscular young man named Roland Buck.
"Because he was 'baching it,' he didn't eat very much at home so when he was invited to dinner, he made up for lost time! I mentioned to Doris, "I pity the woman who has to cook for him!"
"The next day he called and asked me to go to some special meetings in Marysville, Washington. It was difficult to get dressed for that date with such a special young man.
"Our courtship was very limited because we had a whole mountain range between us. We were both busy pastoring our own churches and to top it off, this was the time when gasoline was rationed. However, the letters flew back and forth between us.
"I'll never forget the day at convention in Walla Walla, Washington, when Roland took me to a beautiful park shaded with low-hanging weeping willows. On the stream going thru the park swans were gracefully swimming. What a romantic setting! He picked out a secluded bench and there in the stillness of a warm spring afternoon he told me he loved me and asked me to be his wife. My heart overflowed with love for him and to God for allowing me to link my life with one so precious. Our hearts beat as one as we shared our dreams and desires for the future.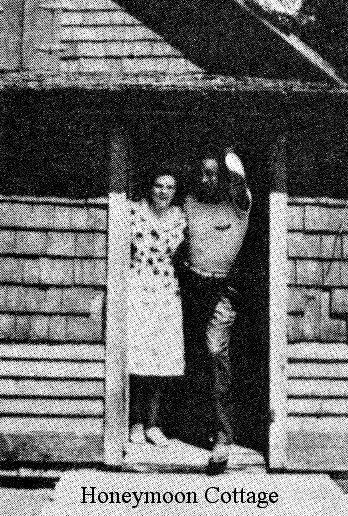 "The wedding date was set for June 13 which was also Roland's birthday. We were united in marriage in Seattle, Washington, at Fremont Tabernacle which is now Westminister Assembly of God.
"Everything happened so quickly that Roland had not given any thought to where we were going to stay on our wedding night so after the wedding festivities were over we went from motel to motel trying to find a place to stay. Finally we decided to start out in the direction of our honeymoon trip along the Oregon coast. We drove until four o'clock in the morning and had to stay in a rickety motel with creaky floors and leaky faucets. It was so old it almost swayed in the breeze. But we didn't care. We were so much in love. Our trip along the winding roads of the Oregon coast was wonderful as we continued to make exciting new discoveries about one another.
"Our first pastorate together was Union Gap, Washington. We arrived there with our Model A and Rol's brother Walt's Model A loaded with wedding gifts and our belongings.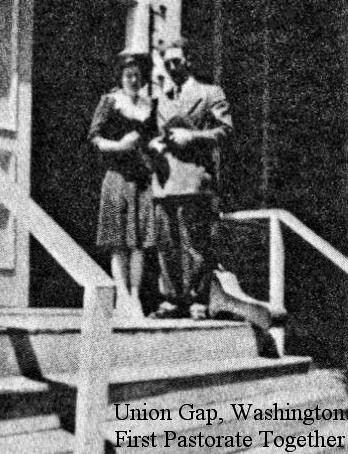 "Rentals were very hard to find in those days, but as we entered the little town we saw a group of houses that looked like rentals. When we stopped to talk to the owner, he told us we could rent one and work out our rent by taking care of the others.
"The one we moved into was really a shack, but we had a roof over our heads! I cleaned and scrubbed thoroughly, set out our many beautiful wedding gifts, and the little shack began to look like home. Material surroundings didn't seem that important because we had our strong love for each other all wrapped up with the love of God. What else did we need?
"Many times during the winter Roland had to worm his way under the houses, killing multitudes of black widow spiders, to thaw out the pipes or do some repairs. As different ones of the houses that were better than ours became empty we would paint and clean and move in. During the first year of marriage it seemed as though I was continually painting, cleaning, packing and unpacking1
"Finally an attractive little cottage became available which we were able to rent and later purchase for the church parsonage. This cottage was so much nicer than all the others. I almost felt like I was in heaven, or at least very close.
"Our time in Union Gap was such a special time of learning to blend our lives together in ministry to others. Many speak of difficult adjustments their first years of marriage, but I'm happy to say we did not have that problem. Our lives flowed together naturally as we had one main purpose - to build the kingdom of God."
Next: Ministry Unfolding